Pline Mounzeo: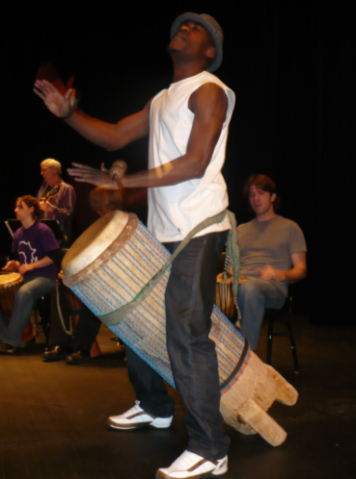 Born in Congo Brazzaville in 1980, Pline Mounzeo, percussionist and dancer, began his artistic career at the side of his uncle, Arsene Kimbembe, director of Le Ballet Final. In 1999, Pline was featured in the Traditional Ballet of Pierre Sacree. In all he spent several years of learning and experimentation so as to enrich his talent, then left Congo for West Africa, where he plunged into his work as a musician and dancer passing through Benin,Togo, Burkina, Mali and finally Senegal, where he stayed for several years as a performer. In 2006 he became a featured performer in the company The First Time and went on several tours in Africa and Europe. He worked for extended periods at L'Association Eolo, a center for the arts in Lyon, France. In 2008 and 2009, Pline Mounzeo performed in multiple places in the United States including Ann Arbor, New Orleans, Los Angeles and Chicago, where he recently played with Tambours Sans Frontiers at the World Music Festival. He now lives and works in Cary, NC. He teaches in Chapel Hill and is a guest artist and teacher in the Department of Music at Duke as well as traveling throughout the state to local events and schools.
Email:
Ferdinand Batantou: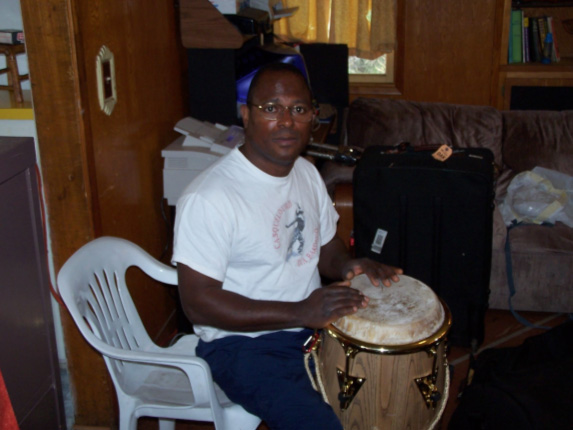 Ferdinand Batantou, also known as Batantou Dia N'Kaba, joined the National Dance Troupe of Congo Brazzaville in the 1970's. It soon became apparent that he was a rare musical talent capable of rapidly learning any instrument. Fortunately for us, he has stayed with the ngoma. In the mid '70's he came to the US and lived in Ann Arbor as lead musician for his cousin Biza Sompa's group, Bichini Bia Congo. He has lived in France since the early 1980's and is one of the leading drummers in Europe. His enthusiasm and creativity are striking and his fiery performances are a little bit spiced with a Senegalese style. The current sound bite is simply Batantou giving a lesson, hopefully we will be able to offer something more spectacular in the future.
Email:
Biza Sompa:
Biza Sompa began his dance-choreography career in 1970 with the Ballet Damar and the Congolese National Dance Company in Brazzaville, Congo. He toured extensively throughout France, Belgium and Germany with the Paris based Congolese dance troupes Ballet Lemba and Ballet N'Kodia.
In 1979 Biza founded the Bichini Bia Congo Dance Theater Company which is based in Ann Arbor, MI. Under his proficient guidance as the artistic director for the company, the members of Bichini Bia Congo are trained in the technical and aesthetic elements of Congolese dancing, singing, instrumentation, and drumming. Biza and his dance troupe travel to elementary and high schools throughout the country using African Dance as a cultural learning tool to educate and motivate young children.
Currently, Biza is a lecturer in the dance department at the University of Michigan and Washtenaw Community College. In addition to teaching, Mr. Sompa also facilitates master classes, workshops, lectures and demonstrations. As well as purely artistic endeavors, he focuses these efforts on exploring the African contribution to cultures around the world.
Those interested in studying with Biza may want to contact him about his summer Congolese drumming and dance camp in the Ann Arbor area usually held near the beginning of July.
For more information on Biza Sompa and Bichini Bia Congo Dance Theater Company:
Email:
Massengo Constant: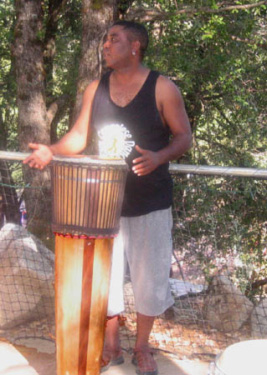 Massengo Constant began his musical career learning from the drum masters of Congo and West Aftrica in 1972; he learned and performed there for 20 years. The original founder of the well known group Tambours de Brazza, he is the lead drummer for the Oakland-based dance troupe, Fua Dia Congo and is on the faculty of the Malonga Casquelord Centre for the Arts. As one who knows the Congolese tradition deeply, he is a superb performer and teacher who gives classes across the globe.
Email: